In Conversation with Sudath Abeysekera of the ArtWay Gallery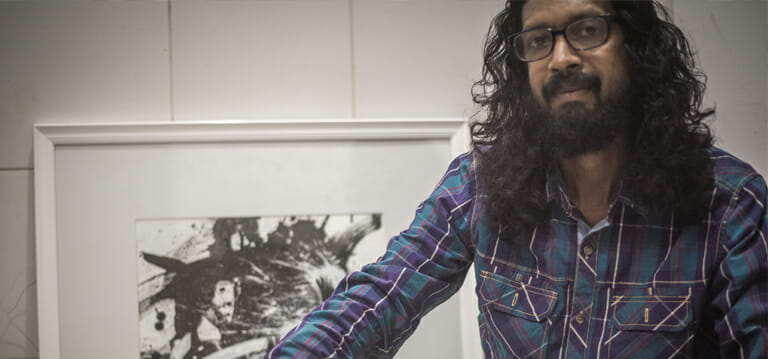 ---
Sudath Abeysekara is the Executive Director at Art Way Gallery and one of Sri Lanka's finest, contemporary artists. Sudath's bold work manifests in several mediums from canvas to mixed-media installation work which have gone on to contribute much to the island's aesthetic journey. As a renowned artist, Sudath opened his own gallery and art school, ArtWay in Nugegoda where students can study for a Diploma in Fine Arts. Even at a young age, Sudath's name was well known since he contributed to the young contemporary artist exhibition presented by the George Keyt Foundation. Today, Sudath's signature style and darkly political narratives have made him an artist to watch out for as visitors throng to his solo exhibitions. Sudath's relationship with Kala Pola is also an intimate one, having exhibited as an artist since 2004. In recent years he has engaged with the art market even more closely, helping to design and create a catalogue of all the artworks presented, to help buyers navigate the endless rows of art presented each year. In his interview with us, Sudath Abeysekara talks about his process as an artist from inspiration to routine, and on his thoughts on corporate patronage on this, the 25th Kala Pola:
Can you introduce yourself to our readers?
I am Sudath Abeysekara and I am presenting as a senior artist in Kala Pola this year. I have been an artist for 30 years and studied at university of visual and performance arts in Colombo. Currently I am following my master's program in fine arts. As an exhibiting artist I have presented my work with artists from several countries. As an installation artist I was awarded 3 months residency in UK. Today I identify as an installation artist. I am artist who doesn't believe in sticking to one path and I keep evolving. I have also opened an advertising company called Art Way. I function as chairman and executive creative director. And we work in several mediums including print, TV and radio. There isn't a big space for artists in Sri Lanka. This is why I opened my gallery to give artists a space to present their work. We also have an art school here with a student body of 400 kids. We have also launched Art Way academy offering diploma courses in Fine Arts. My vision is to create a path for arts in Sri Lanka.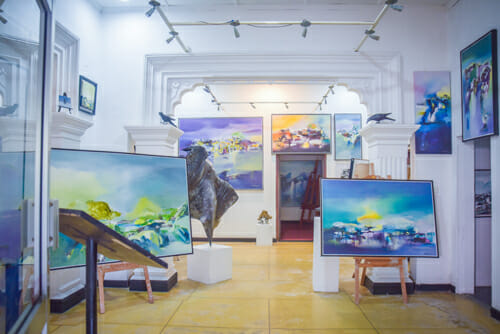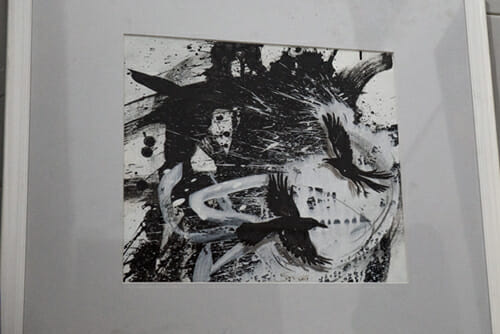 Can you talk about your installation/mixed media work?
Our traditional understanding of the arts revolves around paintings and sculpture. When you look at the contemporary age let's say the 1900s. We saw people going beyond the canvas. For an example let's take Marseille Duchamp Urinal presented in 1917. His absurd exhibition changed the way the world sees art. This where the presentation of art pieces began. My own final exhibition in college was installation based. My most recent exhibition titled 225 crows at the Lionel Wendt art gallery.
As an artist what is your creative process from concept to exhibition?
Let's take my 225 crows exhibition there was no way I could just draw them I had to move beyond the canvas. When making an installation the concept is the first thing for me. It is not different when approaching commercial creative forms like advertising as well. It becomes easier when you have an idea to execute the work. This can be seen in collection of David and the hero I portrayed this artwork in a way which went beyond social conformity of art to portray my expression of art intensely. During the exhibition there was a live performance act by Amaradasa Heenukewa where a huge glass was smashed.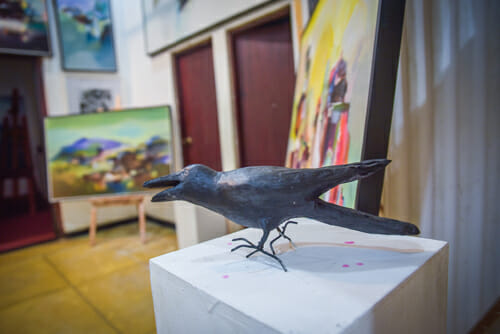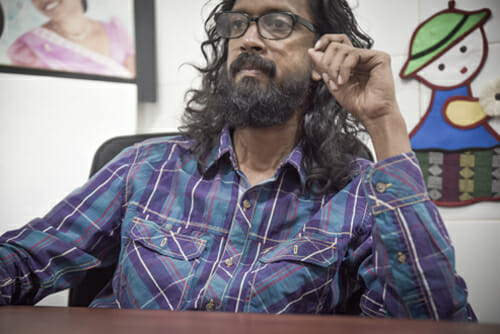 Can you give another example of this?
Another example would be my 2017 exhibition '225 Crows' which was produced in a way to get the viewer to think in a way which was different to the way they usually think. Thereby the whole art gallery was portrayed in a way which resembled the contemporary society. The reason I choose crows as the title of my exhibition was because at an earlier age I used to observe crows with fascination and interest. Therefore, I used the crow to convey a broad message that even though the habits and behaviours of a crow can be useful to society it shouldn't be copied by humans.
Can you talk to us about your opinion of corporate sponsorship about the arts?
Corporate and state patronage to the arts is not new to the world. Throughout history we have seen royal and religious commissioning and patronage to the arts. Even in Sri Lanka it was the kings and the temples that would engage with and fund artist. This is how we see so many temples adorned with art throughout history. The gallery concept is a fairly new one. It has been the process that non-academic artists have been brought to the forefront this happened in Sri Lanka too. You can see this in how John Keells has sponsored Kala Pola for 24 years. What would be great if more corporates could do this. Art is a powerful medium the more corporates and government bodies realize this in the country, the better it will be for everybody.